This was a quick and dirty rundown done in response to the early days of the pandemic.
The Staying Inside Guide: Taking Improvisation to a Whole New Level
Livestreamed concerts by jazz musicians reinvent the typical performance for times of lockdown.
By Martin Johnson
April 11, 2020 7:00 am ET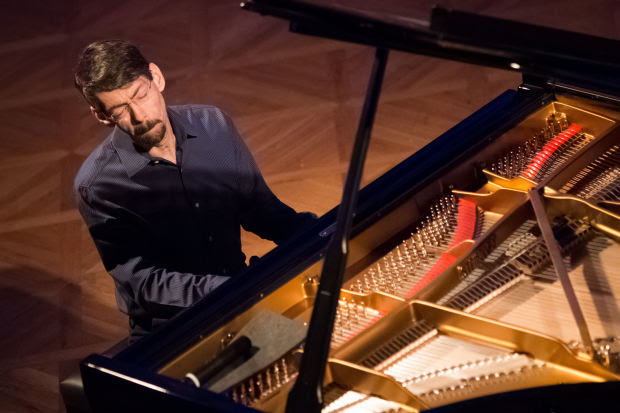 Fred Hersch
PHOTO: MARTIN ZEMAN
Early in the afternoon of April 10, pianist Fred Hersch sat down at his keyboard and dove into the Rodgers and Hammerstein classic "This Nearly Was Mine." The tune from "South Pacific" is a great match for Mr. Hersch, a venerated musician known for his austere elegance. He captured the wistful mood of the piece and in his improvisations he hinted at more complex emotions before resolving it with a hopeful flourish.

In a move that gives new meaning to the word "improvisation," Mr. Hersch is one of many leading jazz performers who have responded to the closing of clubs and other venues by turning their living spaces into performance venues. Many of these livestreamed performances typically occur on Facebook Live (where an account is not a prerequisite for viewing), while others can be seen on Instagram, YouTube or on specially created platforms. In addition, presenting organizations are responding to the situation by curating series of their archived performances, and some upstart organizations have begun sponsoring festivals of musicians playing in safe spaces and intimate settings, all of them making honey-sweetened, mint-garnished lemonade out of lemons.
Cecile McLorin Salvant
PHOTO: JAVIER ETXEZARRETA/EPA-EFE/REX/S/EPA/SHUTTERSTOCK
Mr. Douglas and Ms. Younger were participants in "Live From Our Living Rooms," a weeklong series that concluded April 7 and featured luminaries like guitarist Bill Frisell and pianist Chick Corea and such fellow up-and-comers as vocalist/guitarist Becca Stevens and the duo of bassist Linda May Han Oh and pianist Fabian Almazan. The site, which describes itself as "an online music festival and fundraiser" was put together by three musicians—Thana Alexa, Owen Broder and Sirintip—and the nonprofit organization MusicTalks with the aim of providing financial support to unemployed musicians.
Linda May Han Oh
PHOTO: GETTY IMAGES
The festival's 23 concerts and five workshops will be archived at the site though April 15 and warrant investigation. Ms. Oh and Mr. Almazan's joint performance was dazzling. They are married to one another, and here the setting offered new insights into them as artists. Rhythms and tempos shifted on a dime; there was a familiarity with complex material and, of course, with each other's tendencies, all of which gave you an immediate sense that they must often jam together at home. Mr. Frisell performed a solo set that alternated between scruffy, edgy sounds and tender ones; the set list was highlighted by a poignant rendition of "New York, New York" and closed with "We Shall Overcome."
Organizations big and small have also jumped into the fray. Jazz at Lincoln Center is updating its YouTube channel—often posting concerts, panels and educational programming. And its blog offers a comprehensive listing of daily jazz livestreams. SFJazz has begun a series of archived shows called "Fridays at Five," where for $5 viewers can watch four concerts from recent seasons. The Jazz Gallery has begun a series of online programming that includes Zoom chats with musicians, archived shows and interviews.
Brandee Younger
PHOTO: GETTY IMAGES
Not all of these online performances are solos and duos. Veteran saxophonist Chad Lefkowitz-Brown has, by adapting cinema's split-screen aesthetic to the virtual world to feature groups of musicians and sometimes the whole band onscreen at once, created a virtual big band with 18 musicians and posted the number "Easy to Love" on his YouTube channel. That Cole Porter evergreen radiates new vibrancy in a flashy arrangement by Steven Feifke. And Mr. Brown, in his video edits, captures the momentum of the performance, showcasing each horn section and solo with breathtaking ease. Mr. Brown and Mr. Feifke are working on an arrangement of "Giant Steps" for this ensemble.
Many of these performances have rougher edges than concert hall appearances. Most of these musicians are well accustomed to walking onstage in front of large crowds. Clicking a button on their phone to begin a show and hearing no response from an audience must be jarring to them. But without exception, a groove is found within a tune or two. It's as if the daily rushes become the director's cut in minutes.
There's an emerging subgenre building. Perhaps several years from now, enterprising labels will offer the complete livestreams of various artists to capture the time when we all sheltered at home and concert halls and jazz clubs were shuttered.
—Mr. Johnson writes about jazz for the Journal.